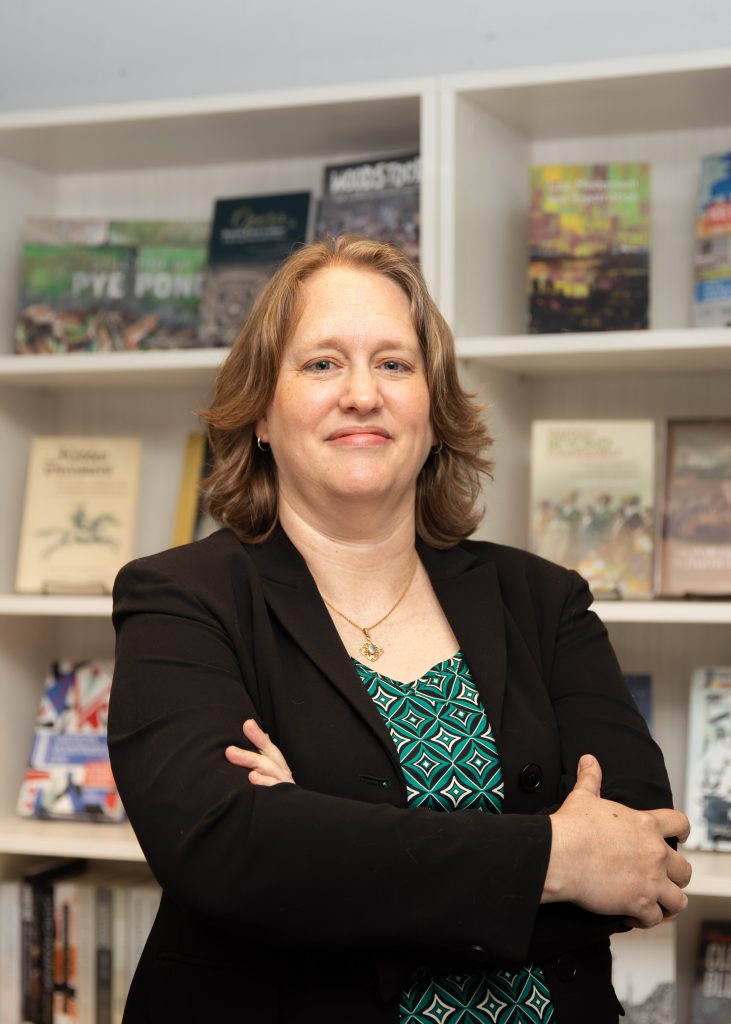 As a child growing up in northern Illinois, Alison Mero always wanted to play the cello. But her school didn't have an orchestra, so her mother steered her towards learning a different instrument instead — her voice.
"When I was in high school, my mother said, 'I'll get you voice lessons if you just shut up about the cello,' and I said, 'OK,'" Mero recalls.
Those voice lessons led Mero to a love of opera and eventually to a Bachelor of Music in vocal performance and music history from Illinois State University. She worked for a while as a stage manager for operas before enrolling in graduate school at Indiana University to earn a Master of Arts and a Ph.D. in musicology.
During her time in graduate school, she once again worked as a stage manager for a summer opera series at Indiana. It was there that she met her husband, who was the head of the backstage electrics crew at the time.
A career path in publishing was not Mero's original plan, but while she was working on her doctorate, she got a job as an editorial assistant for the Journal of Musicology, a top-tier journal. She was promoted to managing editor, and it was this experience that brought her to Clemson as executive managing editor of the Clemson University Press in 2017.
Mero has been instrumental in growing the Clemson University Press from producing two or three books per year to producing 20 to 30 books and journal issues per year. She started the Studies in British Musical Cultures book series, acquired many new titles, managed production on all new books and helped professionalize all press operations.
In February 2023, Mero was named interim director of the Press, and after five months in the position, she was named director following a national search to fill the role. Mero is excited about the opportunity to continue to lead the Press and help it grow even more.
"I love working for a mission-based publisher," she said. "I love that we're not just about the bottom line. I care about the books we publish, and I care about the subject areas we publish in. It has been a really meaningful career path."
The Press has faced some challenges this past year. The Press had to close its office on the second floor of the R.M. Cooper Library following a pipe burst in December 2022 that caused extensive water damage on the bottom four floors of the building. The Press office took heavy damage, and the staff had to work from home for several months which repairs were made.
"We worked really well from home, but it's great to be back together in person," Mero said. "The team has been fantastic getting through this interim period. Everyone has pulled together to make sure the work gets done. I'm really grateful to have them."
Among the things she is most excited about for the Press are the new partnership with Longleaf Services, which will allow the Press to have a greater reach with its books and grow its publishing program. She is also excited a few upcoming books, including "Hawk," a long-form poem by Vivan Ayers Allen originally written in 1957, which will be published in trade paperback and limited-edition facsimile hardcover this fall.
The Press is also publishing a book in 2024 based on the popular musiciology blog "Not Another Music History Cliché" by the late Linda Shaver-Gleason. Mero describes the book as "music history for anybody who likes classical music."
Mero is also looking forward to continuing the Press' partnership with Clemson Extension, which allows Extension to publish books to help people in the agriculture industry, as well as the general public, such as the forthcoming Master Gardener Manual, as well as an upcoming pollen guide.
"Becoming director has changed the way I have to think about a lot of things," said Mero. "I like thinking long-term and about the big picture and strategizing. I have a really great team, and I want to work with them to make this into something even bigger and better."
Mero and her husband have two children, ages 7 and 11, and she continues to enjoy making music for herself, when she has time. She sings in her church and "noodles" on piano, but her original desire from when she was a child has never gone away.
"When I retire, I'm going to learn how to play the cello," she said.
About Clemson University Press
Established in 2000, Clemson University Press has expanded in recent years, adding approximately 25 books and journal issues per annum to its strong backlist of more than 100 titles. In 2014, the Press entered into partnership with Liverpool University Press, an award-winning publisher of distinguished scholarship since 1899. Through this strategic international partnership, the Press is a global ambassador for Clemson University, distributing increasingly diverse and impactful scholarship worldwide. In 2021, the Press became a member of the Association of University Presses, a distinguished international community of publishers committed to the highest caliber of research-based scholarship.