Brenda Burk

University Records Officer
Contact
864-656-5176 bburk@clemson.edu Library Depot 112
Education
MA, Library and Information Sciences, University of Wisconsin-Madison
BA, History, University of Wisconsin-Madison
Research Interests
Archival collection development, donor relations, primary resources literacy, and records management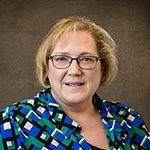 ---
Selected Professional Works
Selected Presentations
"Become a Wikipedian." Clemson University Osher Lifelong Learning Institute, April 20, 2022.  Instructional Workshop.
"The Name on the Building." Clemson University Osher Lifelong Learning Institute, March 1, 2022.  Paper presented.
"Historic Cemeteries and Universities." Clemson University Woodland Cemetery Symposium, online, October 7, 2021.  Discussion Moderator
"Research Update on Senatorial Collections." Association of Centers for the Study of Congress Annual Meeting, Online, May 4, 2021. Paper presented.
"Returning to Work:  Shifting Sands." Association of Southeastern Research Libraries (ASERL), Online, June 3, 2020. Paper presented.
"Connecting Communities: Supporting the Counter-Narrative," South Carolina Archival Association (SCAA) Annual Meeting, Newberry, SC, October 25, 2019. Paper presented.
"People Not Property South Carolina Project." South Carolina Public Records Association Midlands Meeting, Conway, SC, April 18, 2018.  Paper presented.
"Creating Your Disaster Team." PALMCOP (Palmetto Archives, Libraries, and Museum Council on Preservation) Annual Conference, Columbia, SC, January 13, 2017. Paper presented.
"Libraries in the Age of Wikipedia: Understanding & Contributing to Wikipedia." Hands-On Workshop, Indianapolis, IN, April 10, 2013.  Instructional workshop.
"Engaging Undergraduate Students in the Archives:  A Case Study." Edward C. Moore Symposium, Indianapolis, IN, March 2, 2012. Panel discussion.
"Collaborating to Build an Open Access Archive on Public Policy Research." Coalition of Networked Information, Washington, DC, December 8, 2008.  Paper presented.
"Planning and Funding an Oral History Project." Can You Hear Me Now?  Voices of the Past, Ball State University, Muncie, IN September 20, 2007. Paper presented.
"Discussion on Knowledge Management and Information Management." GEO's Knowledge Management Conference, Boston, MA, May 5, 2005.  Panel discussion.
"Records Management within your Foundation." Grant Managers' Network Conference, San Diego, CA, April 9, 2005.  Paper presented.
"Mining the Motherlode:  Using Archives and Manuscripts."  Association of Research on Nonprofit Organizations and Voluntary Action (ARNOVA) Annual Meeting, November 11, 2000.  Paper presented.
Selected Publications
Brenda L. Burk, Elizabeth Green, Sophia Guevara, and Melanie Sciochetti, Tools of the Trade: Core Resources for Grantmakers, 2nd edition, Consortium of Foundation Libraries, 2011.
Brenda L. Burk, "Opening of the Archives of the Organization of American Historians," OAH Newsletter, August 2003.
Joseph C. Harmon and Brenda L. Burk, "Better Service Through Flexible Rules: Cataloging a Collection of Annual Reports In a Most Un-CONSER-like Manner," Cataloging and Classification Quarterly, Vol. 31, No. 1, 2001.