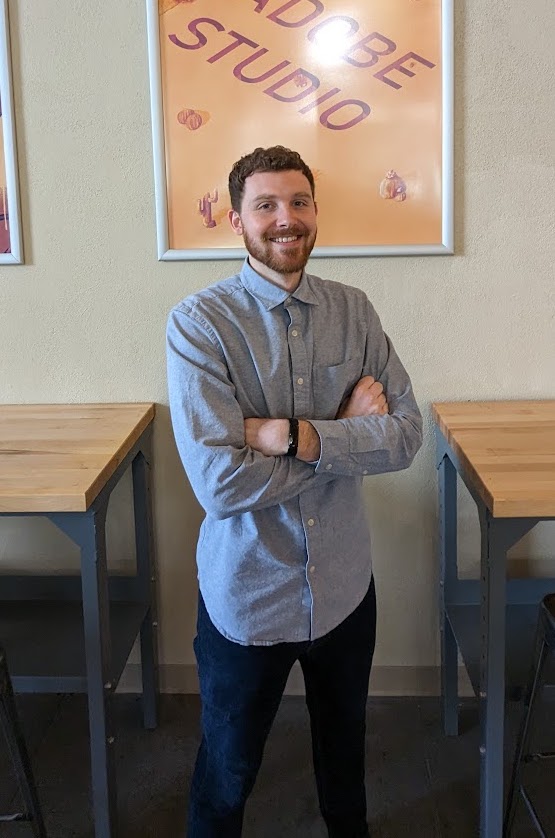 Tyler Commons has spent most of his career serving others. Growing up in the small town of Crystal River, Fla., he always enjoyed going to the library and thought it would be fun to work in one, but it took him a little while to get there.
Commons didn't take a "traditional" path to a library job. He graduated from the University of Central Florida with a degree in religious and cultural studies and spent several years working with youth ministry at a few different churches, doing everything from coaching sports to planning youth events and retreats. In 2020, right before the COVID-19 pandemic started, Commons had left his job looking for a change. He ended up turning back to his interest in libraries. He found a job with the Mountain Regional Library System in north Georgia.
"I loved it. I loved interacting with patrons, loved helping them find all the resources they need, loved finding books for them and chatting about the books I just read, all that really cool stuff that goes along with working in a public library," he said.
In 2022, he made the switch to academic libraries when he started working for Clemson Libraries as a library specialist in the circulation department. In that role, he assisted patrons at the service desk and oversaw the textbook lending program, which allows students to check out textbooks from the Libraries, allowing them to save money. Just this past fall alone, more than 670 students took advantage of textbook lending, saving an estimated $86,000 in textbook costs.
This month, Commons has taken on a new role for the Libraries, as manager of the new Learning Commons, which will soon be coming to the third floor of Cooper Library. The Learning Commons will be a place for collaborative, independent and experiential learning, where student success partners can come together to offer support and resources to students all in one place. As manager, Commons will play an important role in designing the new space and building relationships with partners across campus to be a part of the Learning Commons.
"I want the Learning Commons to be a place where students can go to get the help they need," he said. "It will be a space where partners can offer services that align with the Libraries' mission and vision to support student success."
Commons said he is excited to be part of the process of building a completely new service area in Cooper Library. He has been researching Learning Commons at other schools to see what they have to offer, but he wants to make sure that Clemson's Learning Commons meets the unique needs of Clemson students.
"Ultimately, it's about figuring out what works for Clemson, what we can do well, and what will have the highest impact for our students," he said.