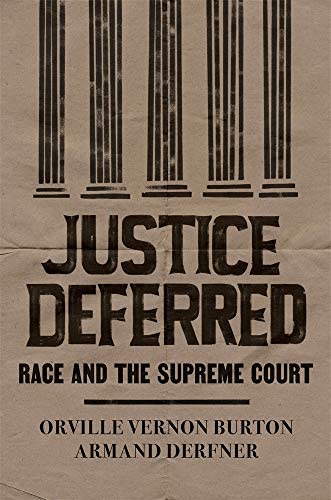 Clemson history professor Vernon Burton will give a talk on his latest book "Justice Deferred: Race and the Supreme Court" at the Clemson History Room in 401 Cooper Library on Tuesday, January 31, at 1 p.m. The event will also be available to attend via Zoom. Click here to register.
Co-authored with civil rights lawyer Armand Derfner, "Justice Deferred" looks at the Supreme Court's decisions in race-related cases. It is the first book that comprehensively charts the Court's race jurisprudence. Addressing nearly 200 cases involving America's racial minorities, the authors probe the parties involved, the justices' reasoning and the impact of individual rulings.
Burton is the Judge Matthew J. Perry Jr. Distinguished Professor of History at Clemson and Emeritus University Scholar and Professor of History at the University of Illinois. He is the award-winning author of several books, including "The Age of Lincoln." Derfner has been a civil rights lawyer for more than 50 years. He has been counsel for the NAACP Legal Defense Fund and the Mexican American Legal Defense and Education Fund, and he helped desegregate university systems and legislatures across the South. He argued his first Supreme Court case in 1968.
This talk is hosted by the Libraries' EDI Committee. It is free and open to the public. Register here to attend.