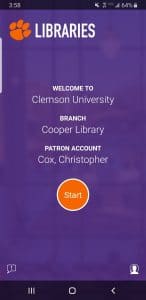 Clemson Libraries Clemson Self-Checkout is now available!
Our new self-checkout app is an easy, contactless way to borrow materials from Clemson Libraries using just your phone or tablet. Available at all locations, including Cooper Library, Education Media Center, Gunnin Architecture Library, and the Clemson Design Center – Charleston Library.
It's easy to download the Clemson Libraries Self-Checkout app:
Search for Clemson Libraries in the App Store (IOS) or Google Play (Android)
When setting up the app be sure to allow access to your camera and location – you will only be able to use it if you are onsite in one of our libraries
When you've found your items in the stacks and are ready to checkout, open the app and sign in with your Clemson credentials
Scan the barcode on each item with the camera on your mobile device
After you finish you'll receive an email receipt with the items checked out and due dates
Questions? Ask a librarian or call 864-656-1557.