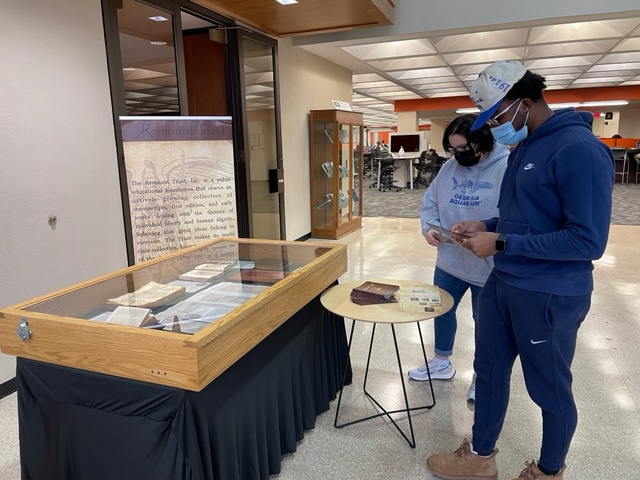 A Cuneiform cone from 2100 B.C., "The American Anti-Slavery Almanac" published in 1839, a 15th-century manuscript of the Bible, a 1st edition of The Federalist Papers, an advance review copy of George Orwell's novel "Nineteen Eighty-Four" – these may sound like artifacts in a museum, but this semester, they are available and accessible at Clemson University.
An exhibit of 40 historical rare documents owned by The Remnant Trust are on display at Clemson this semester at the R.M. Cooper Library and the Wilbur O. and Ann Powers College of Business. Not only can students, faculty and staff view the items, but they will also have opportunities to hold and interact with them. Faculty can also check out items to use in their classes this semester.
The Remnant Trust is a public educational foundation that aims to share rare manuscripts, first editions and early works to the public through partnerships with colleges and universities across the country.
"I am excited that we are able to work with The Remnant Trust to make these important pieces available on our campus," said Clemson University Libraries Dea
n Chris Cox. "Students will have the opportunity to pick these pieces up, flip through the pages, feel the weight of the books in their hands. It is a good way to make history real for them."
Brad Hobbs, clinical professor of economics and fellow of the Hayek Center for the Business of Prosperity, was a driving force behind bringing this exhibit to Clemson.
"We live in a world in which young, new and 15 seconds is sort of the norm. These are books that have lasted for hundreds of years and are important to the progress of humankind," said Hobbs. "It is a unique experience to be able to pick up one of these books and read it and think about the impact it has had on the lives of our students today."
Clemson faculty were able to request specific pieces for the exhibit, and they can reserve pieces to take into their classes this semester. Faculty who want to check out pieces from the exhibit can contact Brenda Burk, head of special collections and archives, at bburk@nullclemson.edu.
The exhibit will be on display on the fourth floor of the R.M. Cooper Library and in the Hayek Center, located on the third floor of the Wilbur O. and Ann Powers College of Business starting Jan. 18. For a full list of pieces available in the exhibit, visit https://libraries.clemson.edu/exhibits/remnant-trust/.