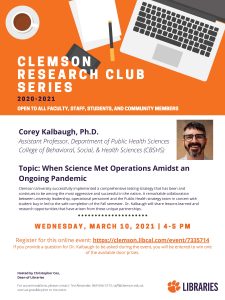 Join us on March 10, 2021 from 4:00pm-5:00pm for the next iteration of the Dean's Research Club Series with Dr. Corey Kalbaugh. The topic will be the When Science Met Operations Amidst an Ongoing Pandemic.
Clemson University successfully implemented a comprehensive testing strategy that has been and continues to be among the most aggressive and successful in the nation. A remarkable collaboration between university leadership, operational personnel and the Public Health strategy team in concert with student buy-in led to the safe completion of the Fall semester. Dr. Kalbaugh will share lessons learned and research opportunities that have arisen from these unique partnerships.
To register, click on this link.