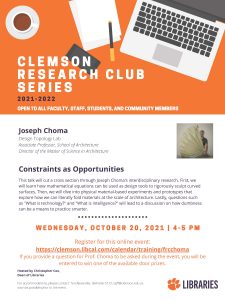 Join us on October 20, 2021 from 4:00pm-5:00pm for the next iteration of the Clemson Research Club Series with Dr. Joseph Choma. The topic will be the Constraints as Opportunities.
This talk will cut a cross section through Joseph Choma's interdisciplinary research. First, we
will learn how mathematical equations can be used as design tools to rigorously sculpt curved
surfaces. Then, we will dive into physical material-based experiments and prototypes that
explore how we can literally fold materials at the scale of architecture. Lastly, questions such
as "What is technology?" and "What is intelligence?" will lead to a discussion on how dumbness can be a means to practice smarter. these unique partnerships.
To register, click on this link.