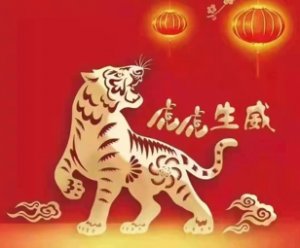 February 1st, 2022 marks the start of the Year of Tiger, the new year in the Chinese lunar-solar cycle. Lunar New Year is the most important holiday in the Chinese cultural tradition. It is also a holiday that spans across Asia, being celebrated by people of Korean, Vietnamese, Mongolian as well as Chinese descent, representing over a quarter of all humankind. Referred to as the "Spring Festival" in Chinese, the start of the Lunar New Year holiday also marks the end of the coldest phase of winter and the beginning of spring.
The Chinese calendar operates in 60-year cycles, with 12-year mini cycles based on the Chinese Zodiac. Twelve animals, in the order of Rat, Ox, Tiger, Rabbit, Dragon, Snake, Horse, Goat, Monkey, Rooster, Dog and Pig represent each of the mini cycle years. Year of the Tiger is the third year of the current cycle, which began with the year of the rat in 2020. Like the Western Zodiac, people born under each animal sign are said to be endowed with unique personalities and horoscopes. Tigers, born in the years of 2022, 2010, 1998, 1986, 1974, 1962, 1950 … are said to be courageous, confident, energetic and challenge seeking. Those born in the current cycle, the year of the "water tiger" also have great interpersonal relationships and a strong ability to learn.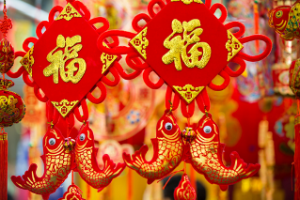 Due to the nature of the Chinese calendar the start dates of Lunar New Year vary each year. The Chinese Spring Festival is a 16-day holiday that lasts from the Lunar New Year eve of each year, with this year being January 31st. It is a festive occasion, a gathering of family members, and consists of feasts with special food, gift giving, public events, and other traditions.
Clemson Libraries wishes all those celebrating the lunar new year, particularly "Clemson Tigers" born in the current year of the zodiac best wishes and prosperity in the new year (恭喜发财/恭喜發財)! It also invites other members of the Clemson community to learn about the traditions of Chinese lunar new year, its practices, the Year of the Tiger, and the Chinese Zodiac through materials for all ages at the library's collection. Please check out our virtual exhibit of works in English for Chinese New Year.