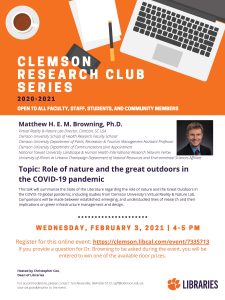 Join us on February 3, 2021 from 4:00pm-5:00pm for the next iteration of the Dean's Research Club Series. The topic will be the Role of Nature and the Great Outdoors in the COVID-19 Pandemic.
Public awareness of the importance of nature and the Great Outdoors rose sharply during the COVID-19 pandemic. People around the world yearned to be in parks, gardens, urban forests, and blue spaces with water. Lockdown measures severed travel to stress-reducing destinations and focused interest in restorative qualities of the home and neighborhood. Long before COVID-19, planners, architects, designers, ecologists, and engineers advocated for parks and other forms of green infrastructure and its array of ecosystem services. Experimental and epidemiological research shows that nature and being outdoors can improve mental/physical health and well-being as well as catalyze social change, thus reducing socioeconomic and educational inequalities.
Emerging evidence suggests that green infrastructure may protect against COVID-19 and its psychological impacts. The mechanisms underlying these myriad benefits are multi-faceted and complex. This talk will summarize the State of the Literature regarding the role of nature and the Great Outdoors in the COVID-19 global pandemic, including studies from Clemson University's Virtual Reality & Nature Lab. Comparisons will be made between established, emerging, and understudied lines of research and their implications on green infrastructure management and design.
To register, click on this link.