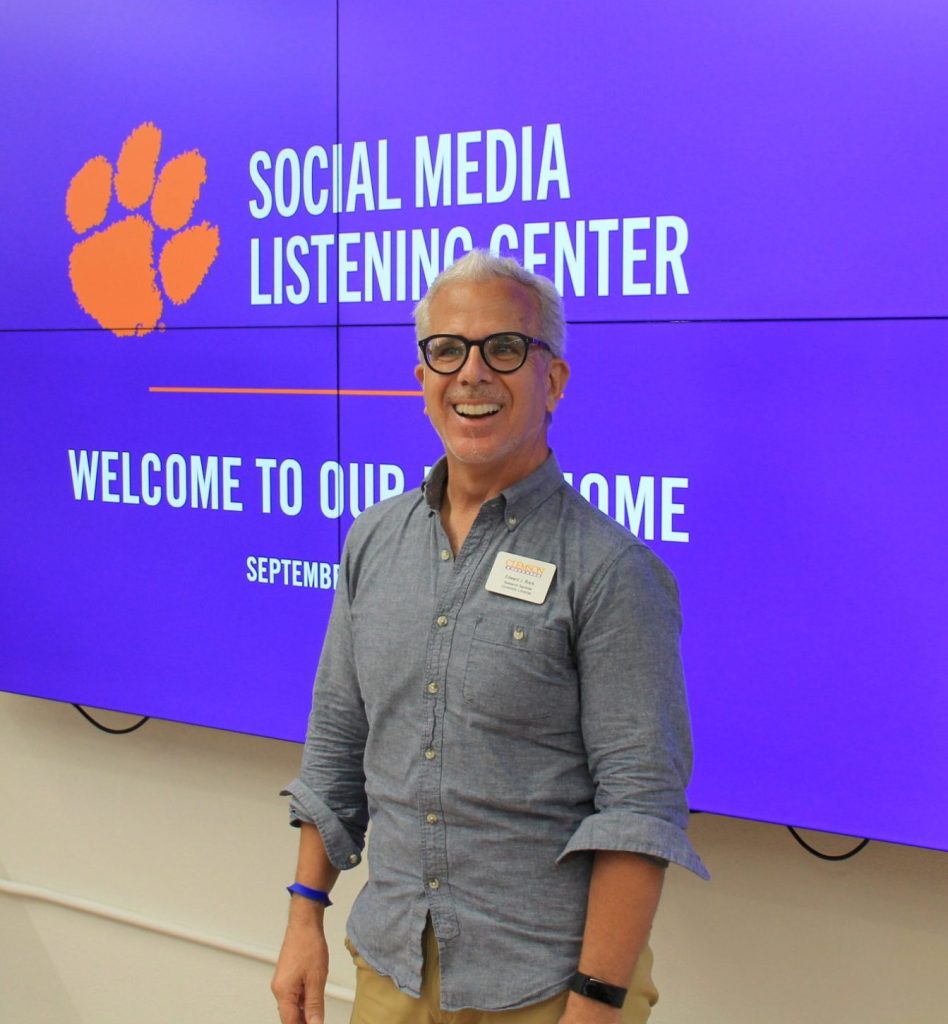 Like many people, Ed Rock's first introduction to Clemson was through football. The Charlotte, N.C., native remembers his neighbors being Clemson alumni and fans, especially during the 1981 season — the year that the football team won its first national championship.
"The whole block knew about it, except for us. We were football agnostics," he said.
Rock never predicted his career would bring him to Clemson decades later, nor did he predict he would end up as an academic librarian.
Rock loved studying languages, starting with French and Spanish. He enjoyed French so much, he traveled to France as a gift after graduating from high school.
His interests took him to the University of Miami, where he earned a Bachelor of Arts in art history with a minor in French. After graduation, he returned to France, where he worked as a teaching assistant at a high school in Bordeaux for two years.
Upon returning to the United States, Rock worked as a translator and field interviewer for the National Opinion Research Center (NORC) in Chicago, but he still wasn't sure what direction he wanted to take with his career, so he enrolled in graduate school. As he started working towards his Master of Arts in French from the University of California, Santa Barbara, he was spending more and more time in the library, and he realized he had an interest in library and information science as well, during time that the internet was becoming more widely used.
"I started doing research in graduate school, and I was in the library so much, I thought, 'OK, I want to be a librarian! I'm already here all the time,'" he said. "It was kind of fortuitous how it all came together."
Rock then enrolled to earn his Master of Science in Information Science from the University of North Texas, which he was able to complete at the same time as his master's in French. He then hit the job market, landing his first academic librarian position at the John Paul II Library at Franciscan University of Steubenville in Ohio. He found and interviewed for the job at the American Library Association (ALA) annual conference, an organization he has been a member of for more than 27 years.
Rock then moved to New Orleans for a position at Tulane University's Howard-Tilton Memorial Library before moving to Clemson in 2006. At Clemson, he serves as the research librarian for three departments — languages, philosophy and religion, and communication. Rock says it has been the perfect way for him to combine his knowledge of and love for language with his interest and experience in librarianship and information science. He considers himself a "practitioner-research librarian" and enjoys being on the front lines helping students, faculty and other patrons get the information and resources they need to succeed.
He says the focus on service and the opportunity to get involved in many things across campus at Clemson is what he likes most about being here.
"That's what has been so wonderful about my job, the opportunity to collaborate with others and work with so many different faculty and staff across the campus. I'm so thrilled to be in an organization of over 5,000 people who work for this university," he said. "I'm always learning things here. I am a life-long learner. If you work where you can collaborate, you're always learning."
Rock has served on dozens of university committees during his time at Clemson, and for a couple of years, he even lived on campus in university housing's Faculty-in-Residence program. He lived alongside students in the Calhoun Courts and Thornhill Village apartments for two years, where he was able to interact with students, plan activities and serve as a mentor and adviser. He was recognized for his work in the program with the James E. Bostic Housing Partner of the Year Award in 2013, and he was also named to the National Residence Hall Honorary that same year.
"I was delighted to do it. It was a great experience for me," he said.
Rock is also an honorary member of Sigma Delta Pi, the National Collegiate Hispanic Honor Society, and he is a Life Member the Honor Society of Phi Kappa Phi and served as president of the Clemson chapter last year.
In addition to his service at Clemson, Rock has served on a variety of committees for the ALA and for the Association of College and Research Libraries (ACRL) and has been very involved with the South Carolina Library Association (SCLA), serving as president in 2013-2014.
Outside of work, Rock enjoys attending exercise classes at Fike Recreation Center and going to concerts and other cultural events. Even though he is still not a huge football fan, he feels like he has found a home at Clemson.
"I feel so appreciated here, that I bring something to the table," he said. "I feel like I fit here. My hope is that I will always be remembered by the students and the faculty for my reassuring and constant presence."