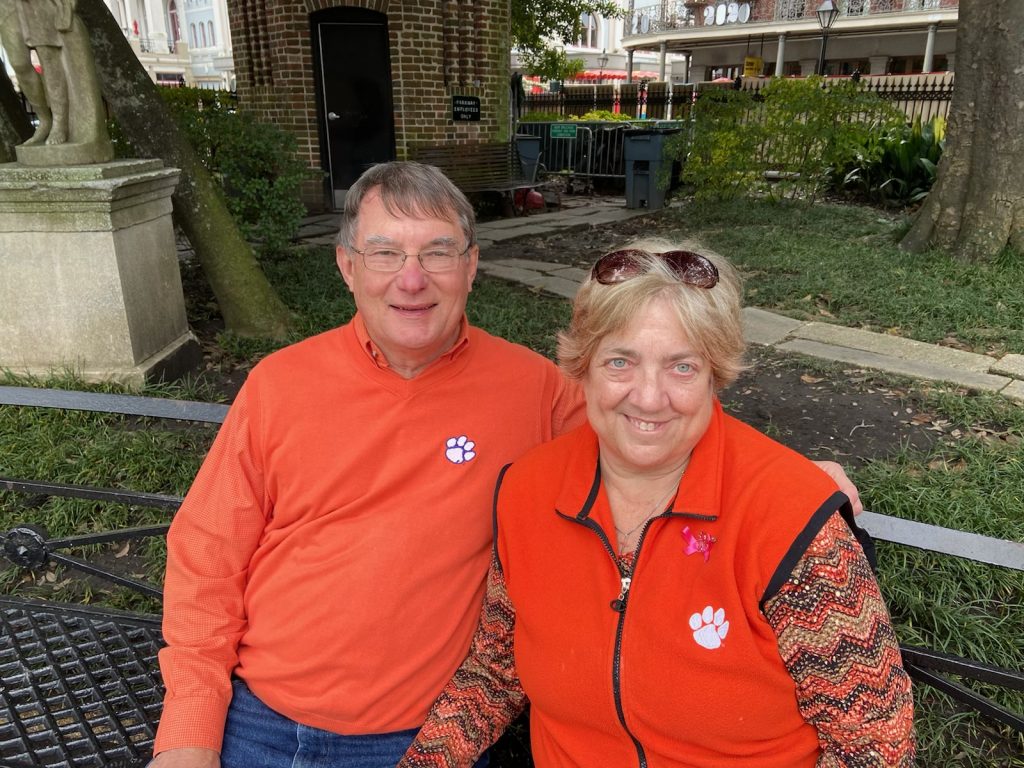 They met in line to register for classes at Clemson University more than 50 years ago. Today, Roger and Kathy Troutman are still very much in love, with each other and with Clemson.
Both Roger and Kathy graduated from Clemson in 1974 and were married that same year. Roger went on to become a veterinarian, founding the Catawba Animal Clinic in Rock Hill, S.C., in 1978. Kathy spent her career in education, becoming principal at Westminster Catawba Christian School. Even though they were living more than 100 miles away from Clemson, they didn't let that distance stop them from supporting their alma mater.
The Troutmans became well known in their community as avid supporters of and ambassadors for Clemson. They joined the York County Clemson Club, and Roger served a two-year term as club president. For 30 years, they hosted the annual York County Clemson Club Send-off Cookout for students attending Clemson and their families. The event brought in 300-400 people each year, meaning thousands of York County students have passed through the Troutmans' yard each fall before moving to Clemson for the school year.
"We truly believe in giving back," Kathy said. "That has been one of our big goals."
Roger has also served on the Board of Visitors and as an IPTAY representative, and both Roger and Kathy served on the Parents Council when their son Ryan was a  Clemson student.
In 2018, the Troutmans moved to Clemson for their retirement. Roger is currently a member of the Libraries Advocacy Board, and the Troutmans are regular donors to the Libraries as well as other university initiatives.
"One thing I like about the library is that it supports the entire student body, from a first-day freshman to an advanced graduate student. It's here for everybody," Roger said. "There's such a widespread need for the resources and services that the Libraries provide. If you support Clemson and its educational mission, we encourage you to support the Libraries, because they are at the heart of that mission."
Earlier this year, the Troutmans donated $5,000 to help the Libraries open a satellite library at the Osher Lifelong Learning Institute (OLLI) in Patrick Square. The library offers a selection of materials that OLLI members or other community residents can check out, and helps people learn about the Libraries' other resources and services. The Troutmans are also OLLI members, so bringing OLLI and the Libraries together made perfect sense to them.
"For the past few years, we have supported both OLLI and the Libraries, and when we learned that this was an initiative that they were trying to establish, we decided to marry the two and make that contribution," said Roger. "We hope it will help OLLI members become more aware of the Libraries and their services, and help the people at the Libraries be more aware of OLLI and its members. I think they can mutually enhance one another."
In addition to supporting Clemson, the Troutmans have spent a lot of their retirement traveling. They have been to 49 of the 50 states, and plan to get to their 50th state – Hawaii – in the next couple of years. And even though he is retired from his veterinary practice, Roger is still working with animals. He has recently begun filling in part time at the Clemson Paw Partners Spay/Neuter Clinic. He also serves as a trail veterinarian for the Iditarod Trail Sled Dog Race in Alaska, which he has done most years since 2001 and has vetted dog sled races in other places, including Norway and Canada. As a trail veterinarian, he travels by airplane across the 1,000-mile trail, being stationed at various checkpoints along the way to check out the dogs and help keep them healthy during the race. Click here to see a video about Roger's experience with the Iditarod.
Roger has been recognized for his work as a veterinarian, as he was named Veterinarian of the Year in 2008 by the S.C. Association of Veterinarians. He has also been recognized by Clemson with the Alumni Distinguished Service Award in 2007. He and Kathy were honored as the Herb Coughlan Memorial Family of the Year in 2019 by the Division of Student Affairs.