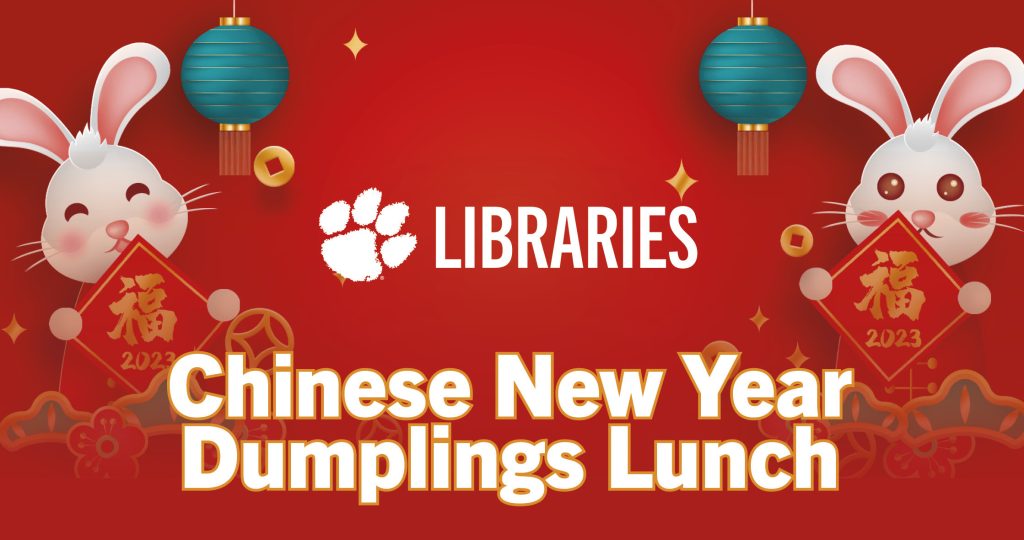 Clemson Libraries invites you to celebrate Chinese New Year with a free dumpling lunch from noon to 1 p.m. Monday, January 23, in the Scholars' Lab located in 413 Cooper Library. Students, faculty and staff are invited to help us ring in the Year of the Rabbit.
January 22, 2023, marks the start of the Year of the Rabbit on the Chinese lunar calendar. One of the most widely celebrated holidays in the world, Chinese New Year is observed by over two billion people in Asia and beyond. Often referred to as the "Spring Festival" (春节/春節)in Chinese, the start of the Lunar New Year holiday also marks the end of the coldest phase of winter and the beginning of spring.
The year of the Rabbit is the 4-year in the Chinese lunar calendar, which operates in 12-year cycles. Each year in the cycle is based on the Chinese Zodiac, with 12 animals, in the order of Rat, Ox, Tiger, Rabbit, Dragon, Snake, Horse, Goat, Monkey, Rooster, Dog and Pig representing a year. Like the Western Zodiac, people born under each animal sign are said to be endowed with unique personalities and horoscopes. Born in the years of 2023, 2011, 1999, 1987, 1975, 1963, 1951, 1939 and 1927, rabbits are said to have quiet personalities but are very confident and determined in their life pursuits, often persevering and overcoming great challenges to achieve what they want.
Chinese New Year is a holiday that is closely associated with food. Food forms a major part of Chinese culture, tradition and family bonding, and special foods are consumed throughout the 16-day period from Chinese New Year eve and the 15th day in the new year's calendar. Each New Year food has an auspicious symbolism meant to bring about good luck in the coming year. Clemson Libraries invites you to sample and hand-make some of these foods, and to learn about their cultural symbolism and significance to Chinese New Year at this free event. Click here to register to attend.