Celebrating Asian Pacific Islander Desi American (APIDA) Heritage Month, a commemoration of the contributions of Asians and Pacific Islanders to the culture, history and achievements of the United States, Clemson Libraries highlights 10 new works in its collection. Aimed to foster great understanding of life and society in Asia, culture and histories of APIDA communities in America and beyond, as well as literature written by celebrated APIDA authors, the new works include:
A young Indian woman falsely rumored to have killed her husband finds a way to make her unfortunate reputation surprisingly useful — but complications arise when other village women seek her help offing their husband.
Loneliness is everybody's business. Neither a pathology nor a rare affliction, it is part of the human condition. Severe and chronic loneliness, however, is a threat to individual and public health and appears to be on the rise. In this illuminating book, anthropologist Chikako Ozawa-de Silva examines loneliness in Japan, focusing on rising rates of suicide, the commodification of intimacy, and problems impacting youth.
"Stitching the 24-Hour City" reveals the intense speed of garment production and everyday life in Dongdaemun, a lively market in Seoul, South Korea. Once the site of uprisings against oppressive working conditions in the 1970s and 1980s, Dongdaemun has now become iconic for its creative economy, nightlife, fast-fashion factories, and shopping plazas. Seo Young Park follows the work of people who witnessed and experienced the rapidly changing marketplace from the inside.
A vivid look at China's shifting place in the global political economy of technology production How did China's mass manufacturing and "copycat" production become transformed, in the global tech imagination, from something holding the nation back to one of its key assets? Prototype Nation offers a rich transnational analysis of how the promise of democratized innovation and entrepreneurial life has shaped China's governance and global image.
Three generations of Taiwanese American women are haunted by the myths of their homeland in this spellbinding, visceral debut novel about one family's queer desires, violent impulses, and buried secrets.
Lucas and Margo are fed up. Margo is a brilliant programmer tired of being talked over as the company's sole black employee, and while Lucas is one of many Asians at the firm, he's nearly invisible as a low-paid customer service rep. Together, they decide to steal their tech start-up's user database in an attempt at revenge. The heist takes a sudden turn when Margo dies in a car accident, and Lucas is left reeling, wondering what to do with their secret — and wondering whether her death really was an accident. When Lucas hacks into Margo's computer looking for answers, he is drawn into her secret online life and realizes just how little he knew about his best friend.
Xuan Juliana Wang's remarkable debut introduces us to the new and changing face of Chinese youth. From fuerdai (second-generation rich kids) to a glass-swallowing qigong grandmaster, her dazzling, formally inventive stories upend the immigrant narrative to reveal a new experience of belonging: of young people testing the limits of who they are, in a world as vast and varied as their ambitions.
"For the first time, poetry, short stories, critical and creative essays, chants, and excerpts of plays by Indigenous Micronesian authors have been brought together to form a resounding — and distinctly Micronesian — voice. With over 2,000 islands spread across almost 3 million square miles of the Pacific Ocean, Micronesia and its peoples have too often been rendered invisible and insignificant both in and out of academia. This long-awaited anthology of contemporary indigenous literature will reshape Micronesia's historical and literary landscape.
For more than a millennium, Polynesians occupied the most remote islands in the Pacific Ocean, an enormous triangle stretching from Hawaii to New Zealand to Easter Island. Sailing in large, double-hulled canoes, without the benefit of maps, writing, or metal tools, these ancient mariners were the first and, until the era of European discovery, the only people ever to have reached this part of the globe. Today, they are widely acknowledged as the world's greatest navigators. But how did the earliest Polynesians reach these far-flung islands? How did they conquer the largest ocean on the planet? Diving deep into the history of the Pacific, Christina Thompson explores this epic migration, following the trail of the many sailors, linguists, archaeologists, and geographers who have puzzled over this story, in a quest to discover who these ancient voyagers were, where they came from, and how they managed to colonize every habitable island in the vast region of remote Oceania.
Inspired by the visual richness and cinematic structure of the Hollywood Musical, Blame this on the Boogie chronicles the adventures of a Filipino American girl born in the decade of disco who escapes life's hardships and mundanity through the genre's feel-good song and dance numbers.
Check out our Asian Pacific American Voices LibGuide for more books and resources!
Upcoming Events
Clemson Libraries also invites you to our APIDA Month webinar, aimed at enhancing cultural competence and fostering greater understanding towards APIDA communities by attending our webinar Microaggressions and the APIA Community, from 1-2 pm on Monday, April 24.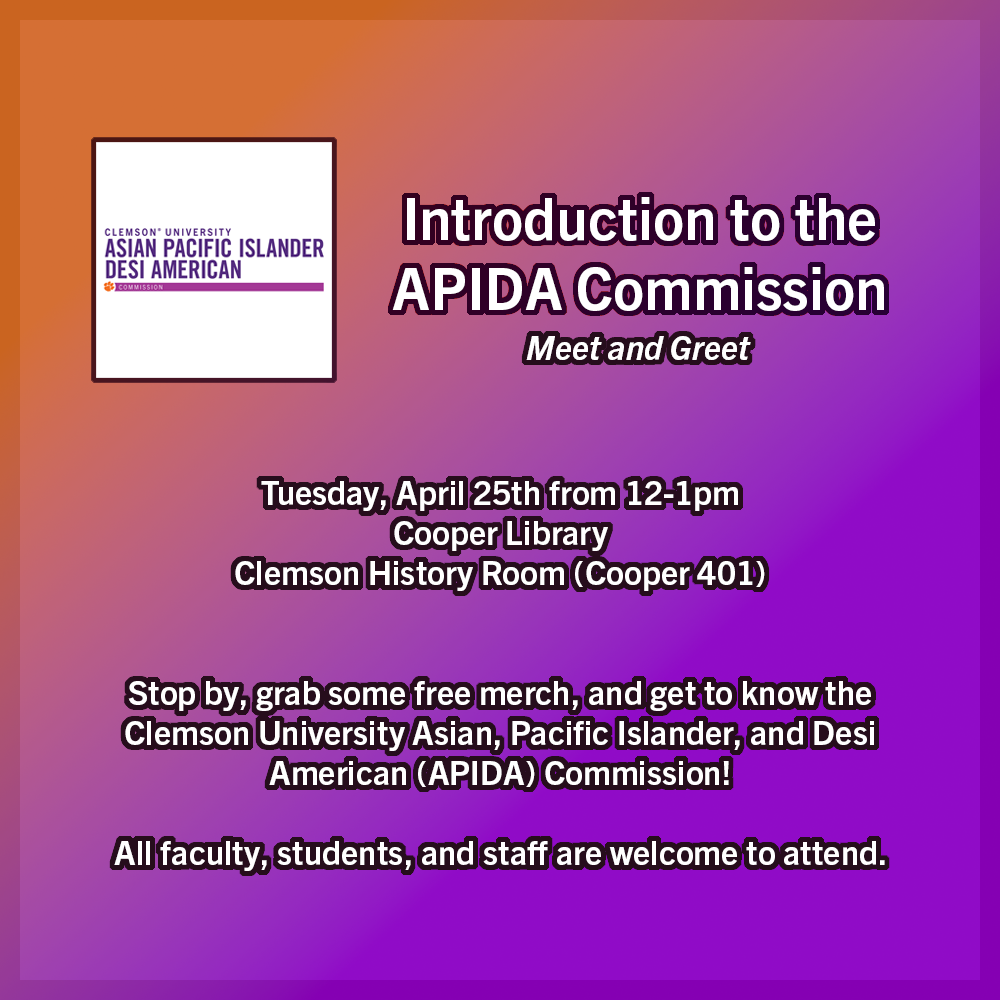 On Tuesday, April 25, Clemson's Asian Pacific Islander Desi American Commission will host a meet and greet event from 12-1 p.m. in the Clemson History Room (room 401) of Cooper Library. All faculty, staff and students are welcome to meet the commission members and get some free giveaways!