« Return to all books
Editing the Harlem Renaissance
Edited by Joshua M. Murray and Ross K. Tangedal
In his introduction to the foundational 1925 text The New Negro, Alain Locke described the "Old Negro" as "a creature of moral debate and historical controversy," necessitating a metamorphosis into a literary art that embraced modernism and left sentimentalism behind. This was the underlying theoretical background that contributed to the flowering of African American culture and art that would come to be called the Harlem Renaissance. While the popular period has received much scholarly attention, the significance of editors and editing in the Harlem Renaissance remains woefully understudied. Editing the Harlem Renaissance foregrounds an in-depth approach to relevant editing and editorial issues, exploring not only those figures of the Harlem Renaissance who edited in professional capacities, but also those authors who employed editorial practices during the writing process and those texts that have been discovered and/or edited by others in the decades that followed. Editing the Harlem Renaissance considers developmental editing, textual self-fashioning, textual editing, documentary editing, and bibliography. Chapters utilize methodologies of authorial intention, copy-text, manuscript transcription, critical edition building, and anthology creation. Together, these chapters provide readers with a new way of viewing the artistic production of one of the most important US literary movements.
"Editing the Harlem Renaissance is an outstanding and impressive text. This invaluable collection demonstrates the relevance of the Harlem Renaissance to African American literature and will result in generating productive and constructive discussion among scholars about editors and Harlem Renaissance texts."
—Sharon L. Jones
author of Rereading the Harlem Renaissance
"The essays gathered in Editing the Harlem Renaissance have the potential of initiating much-needed conversations regarding the complex relationship that Digital Humanities bears to the steadfast archival and textual work since the 1970s that forms the foundations of Harlem Renaissance Studies as a field."
—Amritjit Singh
Langston Hughes Professor Emeritus of English, Ohio University
"With a wide-ranging, erudite, and accessible suite of essays, Editing the Harlem Renaissance is a profoundly useful and long-awaited volume on an understudied yet essential facet of African American literature and Black textual production writ large. As it productively stretches common understandings of what constitutes editing, the volume puts a much-needed spotlight onto key figures, editorial practices, and publications—old and new—that played essential roles in fashioning, curating, collecting, and essentially creating what we now know as the Harlem Renaissance. This excellent book is to be celebrated, not only for what it already achieves, but also, we must hope, for helping to herald a new age of Black bibliography."
—Jean-Christophe Cloutier
author of Shadow Archives: The Lifecycles of African American Literature
"Examining 'editorial genealogies and futures,' this timely collection approaches editing the Harlem Renaissance as both a historical project and an ongoing activity—a kind of 'care work' broadly conceived to include not only editing magazines, anthologies, and critical editions, but also bibliography, librarianship, recovery work, introductory essays, computational analysis, and curation of websites and digital archives. Adopting a range of methods and a lucid, engaging style of delivery, the contributors elevate the often invisible, undervalued labor of editing, demonstrating that this "'work of many hands' was and remains essential to what is now called the Harlem Renaissance."
—Suzanne Churchill
author of The Little Magazine Others and the Renovation of Modern American Poetry
About the Editors
Joshua M. Murray is assistant professor of English and the pre-law and paralegal studies coordinator at Fayetteville State University. Ross K. Tangedal is assistant professor of English and director of the Cornerstone Press at the University of Wisconsin–Stevens Point.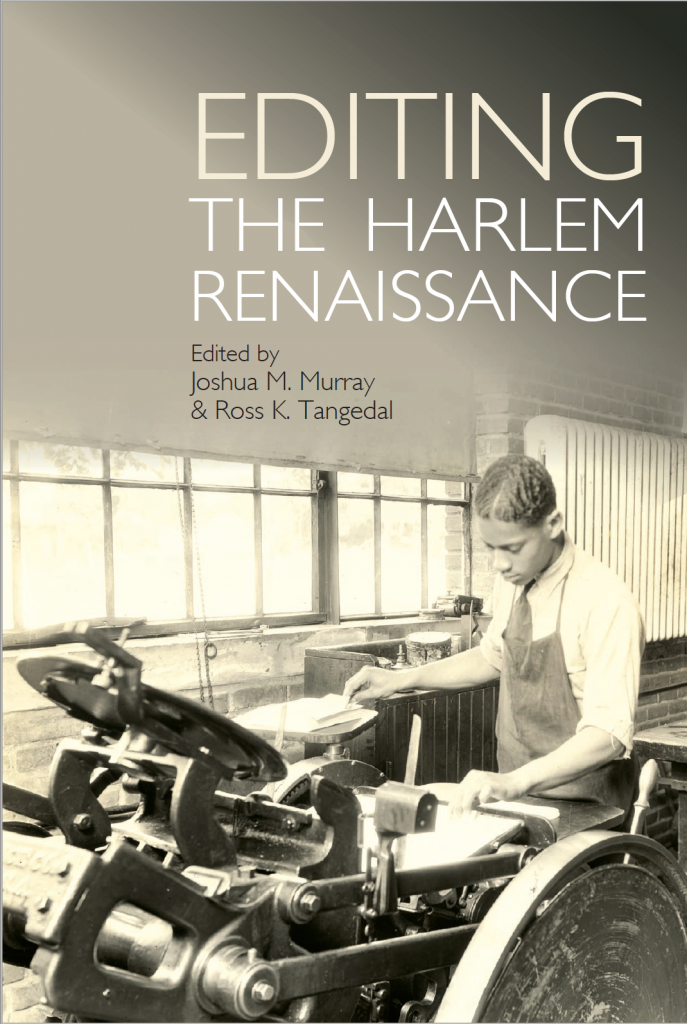 Purchase in North America
Purchase Globally