« Return to all books
Gendered Ecologies
New Materialist Interpretations of Women Writers in the Long Nineteenth Century
Edited by Dewey W. Hall and Jillmarie Murphy
Gendered Ecologies: New Materialist Interpretations of Women Writers in the Long Nineteenth Century considers the value of interrelationships that exist among human, nonhuman species, and inanimate objects as part of the environment in the work of a diversity of nineteenth-century female writers. The collection engages with current paradigms of thought influencing the field of ecocriticism and, more specifically, ecofeminism. Various theories are featured, informing interpretation of literary and non-literary material, which include Anthropocene feminism, feminist geography, neo-materialism, object-oriented ontology, panarchy, and trans-corporeality. In particular, neo-materialism becomes a means by which to examine literary and non-literary content by women writers with attention to the materiality of objects as the aim of inquiry.
"The contribution of women to the environmental movement is one which is deservedly receiving more attention across all disciplines, and it is encouraging to see this happening particularly in the environmental humanities. Writing about nature and the environment is a growing area, paving the way for fruitful scholarly work on women's writing about the environment. The long nineteenth century is a conflicted and productive site for this examination: women's lives and work were, then as now, enmeshed in the confining ecosystem of a patriarchal culture which failed to take their work—both creative and scientific—seriously, and so it is promising to see books such as Dewey W. Hall and Jillmarie Murphy's Gendered Ecologies: New Materialist Interpretations of Women Writers in the Long Nineteenth Century breaking new ground. As the introduction makes clear, this collection of essays is intentionally diverse and pleasingly intersectional, negotiating complex boundaries not only across genders, but also between the human and nonhuman, and additionally between women's bodies and their material environments. In the process the essays offer some exciting new ways of reading women writers."
—Serena Trowbridge, Victorian Studies
"A fresh and invigorating contribution to the field of environmental humanities. . . The 'diversity' of the collection allows for a picture to emerge here of the many, complex, and fascinating engagements with natural history made by women writers during the long nineteenth century."
—Penny Bradshaw, Green Letters

"There is much to gain from this collection for literary researchers, ecocritics, and feminists. . . . Gendered Ecologies provides an evocative look at the materiality and ecofeminist underpinnings of canonical and lesser-discussed texts written by women in the nineteenth century."
—Melinda Backer, Women's Studies
"This collection is very impressive, offering insightful new readings of British and American women authors from the perspective of new materialism.. . . [T]hese essays expand the conception of what constitutes scientific writing in the long nineteenth century and recognizes the contributions of these women writers for the first time."
—Ronald D. Morrison, Pacific Coast Philology
"The essays in Gendered Ecologies explore an array of spaces, such as gardens, medieval towers, and ancient Greece, where readers will find exhumed skulls, chlorinated lime, and Charlotte Brontë's fern collection, among other entities. . . . With its stirring, theoretically robust, and accessible analyses, this collection also illustrates the value of nineteenth-century women's writing to posthumanists, New Materialists, and ecocritics."
—Abby L. Goode, Legacy
About the Editors
Dewey W. Hall is a Professor of English at California State Polytechnic University in Pomona. He also belongs to an interdisciplinary research program, featuring Literature and Arts, as part of St. Catherine's College, Oxford. Jillmarie Murphy is a Professor of English and Director of the Gender, Sexuality, and Women's Studies Program at Union College, Schenectady, New York. Her research interests and publications employ the psycho-social paradigm of attachment theory, drawing on topics considering gender, race, class, and ethnicity and their relationship to human-to-human, human-to-place, and human-to-animal bonding in literature.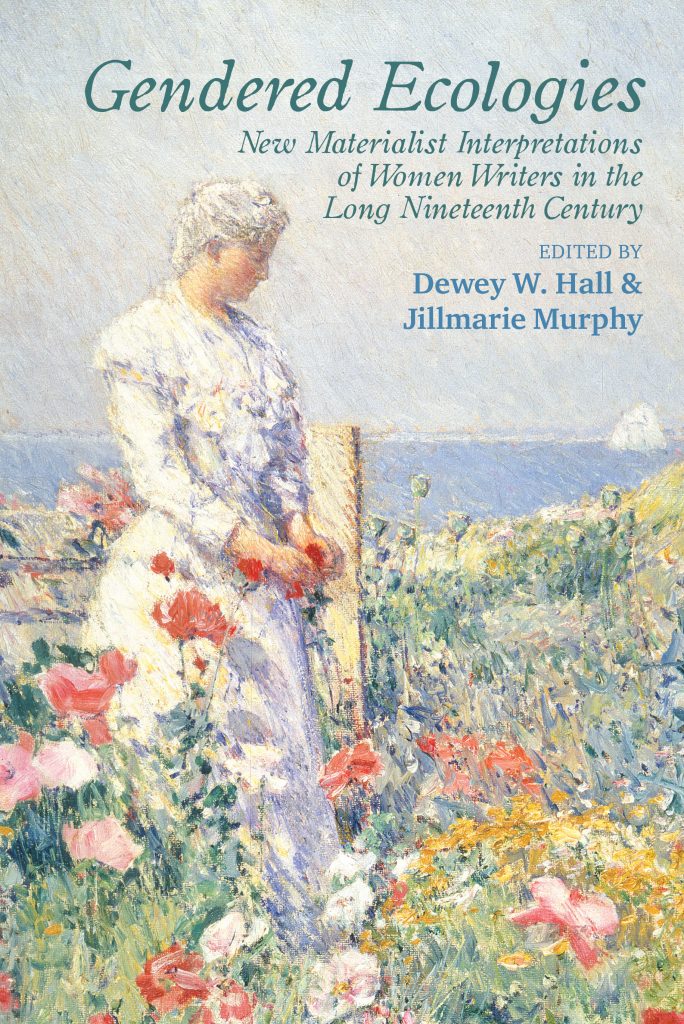 Purchase in North America
Purchase Globally
Details
Pages: 256 pages
Published: March 2020
Formats
Hardback
ISBN: 9781949979046
Subjects
Literature