« Return to all books
100 Years of Clemson Architecture
Southern Roots + Global Reach
Edited by Ufuk Ersoy, Dana Anderson, Kate Schwennsen
This book documents most of the events held in 2013 to celebrate the first hundred years of Clemson University's architectural program (1913–2013). The centennial events began in March with a four-campus meeting to honor the Charles E. Daniel Center for Building Research and Urban Studies in Genoa, Italy, and the Barcelona Architecture Center. Exhibitions, lectures, and other events continued at various locations (in Clemson and elsewhere) through October.
100 Years of Clemson Architecture: Southern Roots + Global Reach Proceedings is a large-format, image-rich paperback book. Its 114 full-color, glossy pages include essays, discussions, and images that explore the Clemson University architecture program's century of accomplishments.
About the Editors
Ufuk Ersoy is Associate Professor of Architecture at Clemson University. Kate Schwennsen Kate is Professor of Architecture at Clemson University.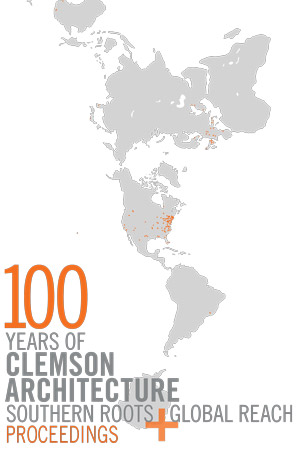 Purchase Paperback
Details
Pages: 108 pages
Published: April 2016
Formats
Paperback
ISBN: 978-1-942954-07-1
Subjects
General Interest