« Return to all books
100 Years of Clemson Architecture
Southern Roots + Global Reach
Edited by Peter L. Laurence
From its beginnings in 1913, architectural education at Clemson University has been mindful of its geographies—its connections and relationships to both the state of South Carolina and to the wider world. This book outlines the first century of Clemson's architectural program, from 1913 to 2013, in the form of a timeline laid out in two half-century parts.
The timeline is printed on a fold-out sheet of matte card-stock that, when fully extended, spans six feet. A pocket on the inside of the hard-bound cover contains supplemental materials documenting the events and exhibitions through which the Clemson University architecture program celebrated a century of accomplishments.
About the Editor
Peter L. Laurence is Associate Professor of Architecture at Clemson University. He is the author of Becoming Jane Jacobs.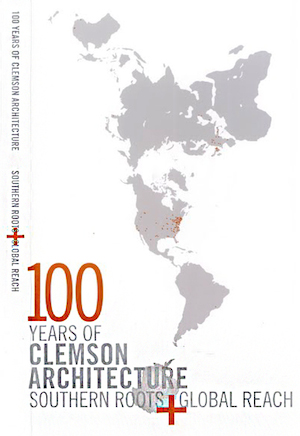 Click to purchase
Details
Pages: 20 pages
Published: October 2013
Formats
Hardback
ISBN: 978-0-9890826-4-8
Subjects
General Interest