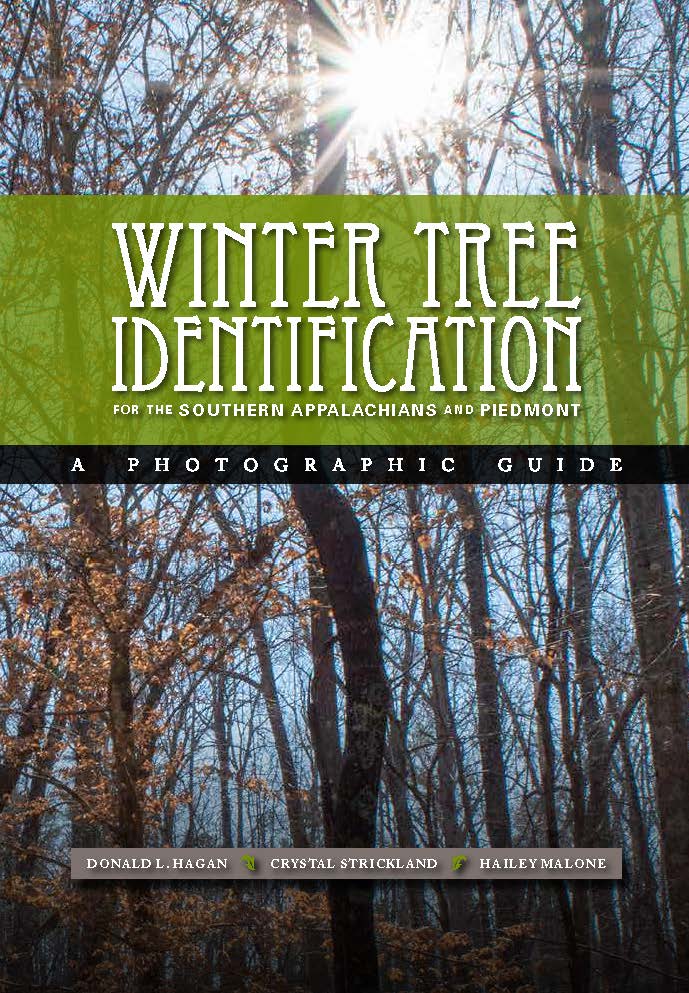 In celebration of University Press Week (November 3–9, 2019), we're highlighting the collaboration, learning, and community behind a recent publication, Winter Tree Identification for the Southern Appalachians and Piedmont. Donald L. Hagen, an assistant professor in the Department of Forestry and Environmental Conservation at Clemson University, engaged two students in the creation of this richly illustrated book: Hailey Malone, who recently earned her BS in Wildlife and Fisheries Biology, and Crystal Strickland, a current student in the Master of Science in Forest Resources program. We invited Crystal to contribute a blog post about her experience working with Dr. Hagen and about how the experience of collaborating on the book enriched her Clemson experience.
I applied to Clemson University because I knew that a bachelor's degree would give me a competitive edge in the professional world of ecology. I could have received my degree from any number of colleges but coming to Clemson allowed me to experience what being a part of the Clemson family is really about: friends, memories, pride, and accomplishment. My time at Clemson gave me many things, but having the opportunity to give back is the thing I am most proud of.
Dr. Donald Hagan, Professor of Forest Ecology at Clemson University, teaches dendrology to hundreds of students every year. Many students in the department of Forestry and Environmental Conservation, myself included, will agree that his class is fast paced, time consuming, and one of the hardest to master. Dendrology is the study of woody plants, and at Clemson, more specifically trees. Over the course of the fall semester, Dr. Hagen teaches students more than 130 tree species and students must learn their common and Latin names, as well as their key characteristics for identification. Most people learn how to identify a tree by its leaves. This works great for a portion of the year, but as the semester progressed, we learned that you cannot always rely on leaves for identification, as deciduous trees shed their foliage every winter. There was nothing out there that taught people how to identify trees in the winter, which made it the hardest part of dendrology to learn for most students. To teach students how to identify trees by their twigs in the winter, Dr. Hagan had been using old black-and-white scanned drawings used by the professor before him for many years. It got the job done, but Dr. Hagan wanted something better. He learned about my skills as a photographer and approached me with an idea he had swirling in his head for several years. He wanted to create a book that contained beautiful high-resolution images of twigs, where he could discuss their key features, and show students and nature enthusiast how to identify deciduous tree species in the winter. I gladly accepted his offer to collaborate on the book and we entered into this adventure wide-eyed with excitement but a little naïve at just what we were really getting ourselves into.
Dr. Hagan and I thought that this book could be put together in a semester, but it didn't take long for us to realize that we were in for a much longer ride. We spent the next two and a half years taking trips all over the Clemson Experimental Forest, and even into the higher elevations of the Blueridge Mountains, to collect twigs and photograph leaves. I spent hundreds of hours in his lab with a light box, a camera, and earbuds, listening to music as the camera's shutter clicked again and again. As I sorted through the thousands of images I had taken, looking for the perfect image of a twig from all important angles, I realized just how significant this book and the time spent on it had become to me. My time at Clemson as an undergraduate student, and having the ability to work with Dr. Hagan, have given me the opportunity to accomplish something very few people have the privilege to do. I am officially a published author. Now I am able to give something back to Clemson by leaving behind a book that that will help students for generations to come.
Click here to purchase your copy of this richly illustrated book, featuring nearly 400 color photos covering nearly 100 species of trees found throughout the Southeast.
Crystal Strickland, coauthor of Winter Tree Identification for the Southern Appalachians and Piedmont.