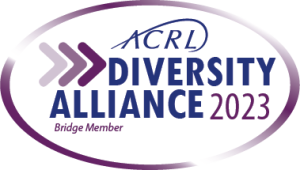 About the Program
As a member of the Association of College and Research Libraries (ACRL) Diversity Alliance, Clemson Libraries is "committed to increasing the hiring pipeline of qualified and talented individuals from underrepresented racial and ethnic groups." The Library Residents Program provides opportunities for early-career underrepresented librarians to "gain the knowledge, skills, and competencies necessary to thrive in an academic context," which includes preparing Residents "for success in scholarship, professional service, and leadership" (ACRL Diversity Alliance).
The program seeks to:
Introduce Residents to the dynamic work of an academic library at a Research 1 institution
Support and expand Residents' skills and interests to bolster employability
Inspire passion about academic librarianship to improve retention of a diverse library workforce
One of Clemson's strategic goals is to "strengthen the sense of community and connectedness that defines the Clemson Family by enhancing diversity, improving workplace quality of life and creating an environment of inclusive excellence." This, and the commitment to "the personal growth of the individual" and promotion of "an environment of good decision making, healthy and ethical lifestyles, and tolerance and respect for others," requires a Resident who embraces and cultivates an environment of inclusion and respect for all people and perspectives (ClemsonForward Strategic Plan).
Program Design
The residency will be a three-year full-time, non-tenure track temporary lecturer position. Job duties will be at a professional level appropriate to a faculty position.
The residency aims to match the service and strategic goals of Clemson University Libraries with the professional interests of the Resident. This will be achieved by engaging with the Resident to tailor the program to their goals, and to decide what structure or autonomy works for them. The Program will be designed with structured opportunities to experience multiple areas of librarianship to explore their interests, and will include at least two major projects to provide enriching experiences within the Libraries' departments. To ensure the best match of skills and interests, selection of specific departments and associated projects will occur as a collaborative process between the Resident, the Resident supervisor (the home department head), and the Library Residents Committee during the initial onboarding.
The Program provides a focus area (home department) based on the Resident's interests, which will be supplemented with project-based opportunities in other areas of librarianship. Project-based opportunities could include liaison work, instruction and outreach, scholarly communications, library technology, cataloging, metadata and resource discovery, digital projects, archival work, or other areas of interest to the Resident. Depending on the needs of the projects chosen, the Resident's time could be divided equally between two projects for the full term, or the first year could be dedicated to starting and completing one project with the second and third years dedicated to the second project, professional development, and scholarly output.
To ensure the Library Resident gains the fullest experience as an academic librarian, opportunities to serve on groups, task forces, or committees will be provided and encouraged. Research and scholarly activities will also be supported, including opportunities to develop a presentation or publication based on their major projects.
How to Apply
Library Resident – Accepting applications until April 14, 2023.
ACRL Diversity Alliance Resources
Libraries Resources